Wide Angle Sky
Images of the sky taken with wider view angle instruments, mostly standard photographic lenses. TAL 200K and its mount were used as a guiding platform, equipped with an LX200 autoguiding system. Comments and technical data can be found next to each image.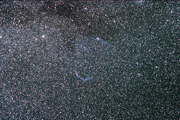 NGC6960-6992 (Veil-Network Nebula)
Canon EOS 10D on Pentax Takumar 105mm f/2.8
12 x 10min @ f/4 @ ISO400

This nebula also got lost among the myriad of Milky Way's stars, for the similar reason as the previous image.
Larger size image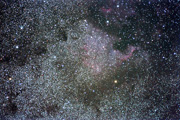 NGC7000 (North America Nebula)
Canon EOS 300D on Pentax Super-Takumar 200mm f/4
13 x 10min @ f/4 @ ISO400

The built-in UV/IR cut filter of the camera hasn't been removed, since the same camera was being used for conventional photography also. For this reason its sensitivity to spectral lines emitted by this nebula was low, with more than 2 hours of exposure at f/4 the background stars vastly outshine the nebula itself. Larger size image
Antares Region, Scorpio Constellation
Canon EOS 300D on Pentax Super-Takumar 200mm f/4
3 x 20min @ f/5.6 @ ISO400

Scorpio constellation is rather low over the horizon when viewed from European lattitudes, and tends to be tricky to photograph. A brown-greenish streak in the lower left corner of the image is actually a branch of a nearby tree, blurred by the motion of 1 hour sky tracking.